Most people think that purchasing an investment property is simply; looking at what is available in their price range and buying it. WRONG!
There are a myriad of points to consider, before you even start to look!
Here is my favourite diagram again;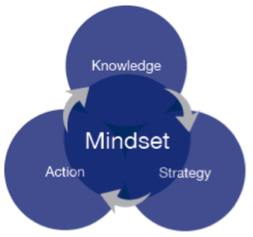 First get your mindset right and then get the right knowledge, then create a strategy and then and only then do you take the action. No other way. You must start with the end in mind and by that I mean ask yourself; where do I want to be in 5, 10, 15 years or whatever you want and when and then work backwards from that. 
It is fair to say that most people do not have a clear idea where they want to be and when. This is not uncommon, but if you require it, I can help you create a really good strategic plan to get you to where you want to be in a safe and easy manner.
Assuming you now have the information you require and have the strategy, what do you buy?
Will it be new, established, a renovating opportunity, a house, a unit, a townhouse, an apartment, near the CBD, city fringe, outer suburbs, residential, commercial, retail and the list goes on and yet most people will just think of residential and a house, unit or townhouse close to where they live.
I am not saying that it is a bad choice; all I am saying is that the investment return could vary from 2.5% to 6% depending on many factors, not forgetting that the capital growth can vary from 6% p.a. to 10% p.a. It all depends on how much homework you have done, before you purchased and more importantly, will it get you to where you want to be in your timeframe?
So before you buy here are some factors that many inexperienced investors fail to consider:
Where and how far away are the schools, shopping centres, medical facilities and childcare centres?

Is it the right end of the street?

Is it the right side of the street?

What are the options in terms of public transport?

What has been the capital growth of the area over the past      12  months, five years and 10 years?

What is the predicted growth rate for the future?

What type of demographic resides in the area?

Has the property been tenanted before and for how long?

Is this particular property sought after by tenants?

What is the vacancy rate of the area?

What is the median rental return for the area?

What kinds of public and private developments are being planned for the area?

What is council's future plans for the area?
This is by no means a complete list, but gives you some idea of what needs to be considered to get the best return from your investment property and more importantly the best capital growth.
The easiest way of course is to use an advocate to help you purchase and many people shy away from this because there is a cost involved. What I would ask you to consider is this! Can you afford NOT to use an advocate, for the simple reason that a real estate salesperson is acting for the vendor to get them the best price and his/her loyalty is to them and not with you.
I recently assisted a buyer who would have paid $365,000 for the property he wanted to buy and I negotiated it for $355,000; saving him $10,000. He was very happy to pay for the negotiating service.
So what I am saying is simply this; You can make buying a property a breeze by using 'It's a Breeze.'
Here is a link to a very interesting article titled; 
Why Property Investors Must Know About Compounding
It is well worth a look.  Just click HERE
As I said in my previous blog post; this year I will be harping on creating wealth through property, because it saddens me to see so may people missing out on what is 'easy money.' It is easy when you know how and if you do not know how; all you have to do is ask by emailing bertram@bertramdaniel.com.
Also, if you want to keep abreast of the current trends and information like this, you can like us on my Facebook page 'Property Advocacy Melbourne'
Click HERE to like us on Facebook 
Till next time
Warm regards 
Bertram